Here is the presentation of 40 Playable Players in the upcoming Disgaea 7 game which will be available for Nintendo Switch and Playstation 4 and 5.
In Disgaea 7, the story is set in a world called the "Hinomoto Netherworld Cluster," which is inspired by Japanese culture. Our heroes will fight through the world in order to regain their lost Bushido. Many characters designed by Takehito Harada will appear, and the Disgaea series' signature "replayability features" and "over-the-top battle systems" have been further enhanced.
Info:
Disgaea 7 will return players to the Netherworld, this time taking them to the Hinomoto Netherworld Cluster, which is inspired by Japanese culture. The game will follow wandering demons named Fuji and Piririka. Fuji is a poor, lazy samurai who hates human emotions, and coughs up blood if he accidentally experiences emotions such as love and friendship. Piririka is a naive CEO from a Netherworld company who is a Hinomoto otaku.
Since its creation, the Disgaea series has been known for its over-the-top damage numbers and characters, with each entry adding new features. Disgaea 7 will introduce a new rule-breaking system known as Dodeka MAX, which enlarges characters into giants that tower over stages. Beyond reincarnating characters, players will also be able to reincarnate items, which adds new mechanics and possibilities for customization. There will also be Ranked Battles where players will compete against others online. Disgaea 7 will also include 45 generic character classes, the most so far in the series.
Title: Disgaea 7
Release Date: January 26, 2023 (Japan)
Genre: Strategy RPG
Platforms: PlayStation 5, PlayStation 4, Switch
Director: Shunsuke Minowa
Character Design: Takehito Harada
Price: 6,980 yen (7,678 yen with tax)
Official Website: disgaea.jp
The Setting is a Japanese-esque Netherworld! Slash Through the Corrupt Shogunate with Your Bushido!
The Disgaea series is a simulation RPG set in an over-the-top Netherworld, where demons, angels, heroes, and evil lords run amok.
In Disgaea 7, the story is set in a world called "Hinomoto Netherworld Cluster," which is inspired by Japanese culture. The protagonists, wandering samurai Fuji and otaku girl Piririka, will fight through the world in order to regain the impoverished Hinomoto from invaders and overthrow the Ooedo Shogunate.
On the game systems front, the series' signature replayability features return, alongside even more over-the-top new systems. Please look forward to a completely new Disgaea experience!
—Characters can turn into giants in Disgaea 7!?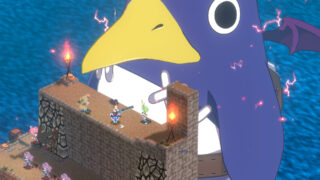 —The overwhelming exhilaration of mowing down enemies with insane damage!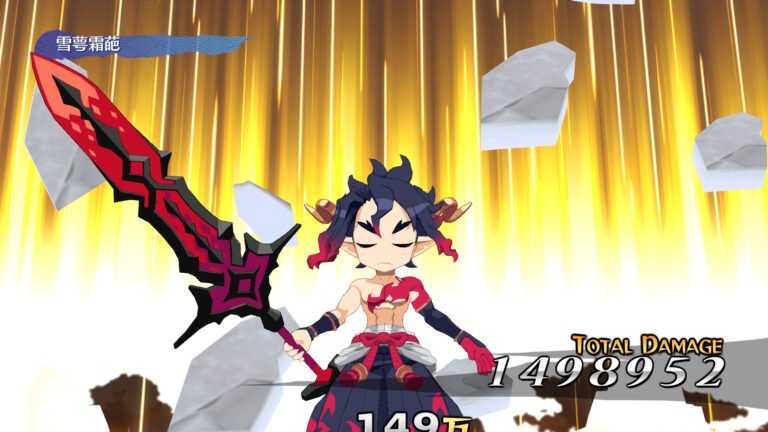 "Hinomoto Netherworld Cluster"
The "Onsen Netherworld," where hot springs spit out evil spirits instead of water; the "Sardine Netherworld," which exists in a super-sized space sardine; the "Shikoku Netherworld," which has a gigantic whirlpool that destroyed countless demon ships; and so on…
In a world made up of multiple unique Netherworlds, the inhabitants followed a code unlike other demons called "Bushido."
Although that is a thing of the past. Hinomoto has changed since the arrival of the demon admiral Opener and his navy.
The demons of Hinomoto abide the laws Opener has laid down called "Hinomoto Destroy Hatto."
"Hinomoto Destroy Hatto"
One: Destroy Bushido.
Two: Anyone who complains about their salary or taxes will be killed.
Three: Say "no thanks" to friendship or love.
Four: Please help the strong and defeat the weak.
Five: Fights are what make the Netherworld, so feel free to inflict violence.
…all who do not abide by these laws will be punished by the Harakiri.
Eventually, the once honored samurais disappeared from Hinomoto…
This is a story about a girl who admires Bushido, and a young man who hates Bushido, as they fight for what they believe in, in a world that forgot honor.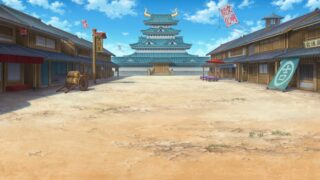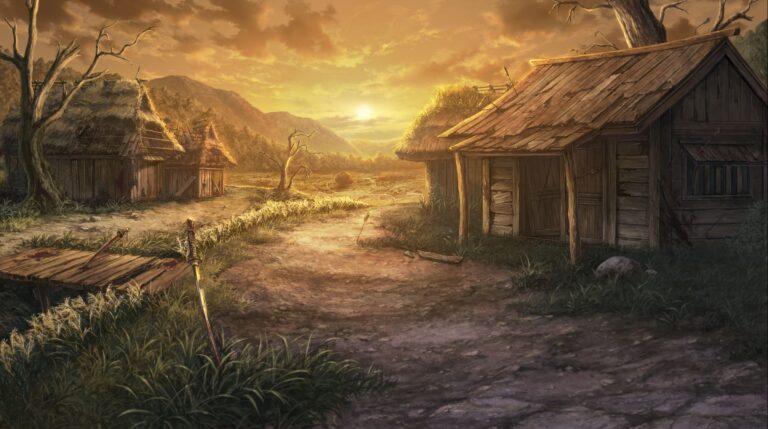 ■ A Love-Hating Samurai and Misunderstood Otaku, Whose Encounter will Change Hinomoto
Fuji (voiced by Kaito Ishikawa)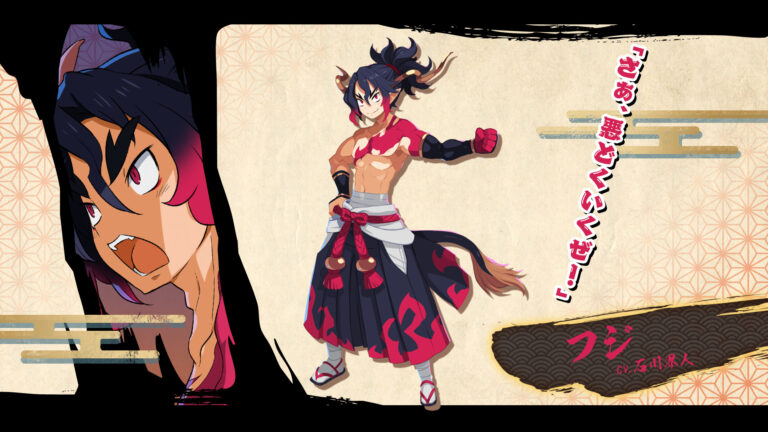 A love-hating lone samurai.
A very "demon-like" demon who is "poor," "loves money," and is lazy. He is allergic to human-like expressions and has to cough up blood whenever he feels human emotions like love, friendship, and sympathy.
Piririka (voiced by Hiyori Nitta)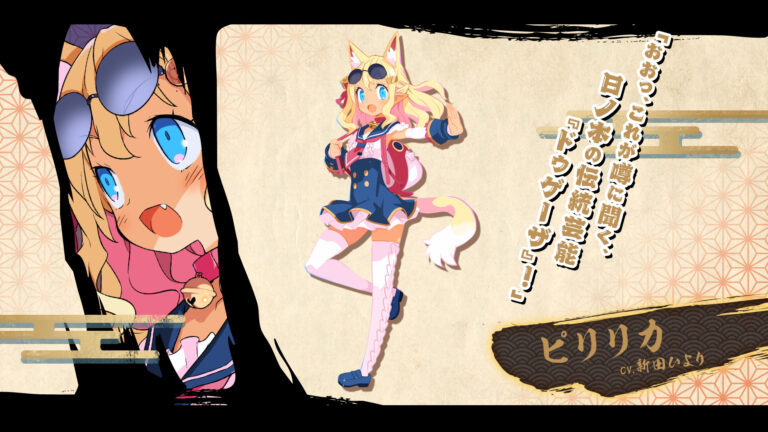 The super-naive Hinomoto otaku.
A young CEO of a company who comes from another Netherworld, brought up in a sheltered upbringing. She is a Hinomoto otaku, although most of her knowledge is gathered from different films and manga so it often differs from the reality of Hinomoto.
■ Friend or Foe? The Twisted Demons of the Hinomoto Netherworld
Ao (voiced by Riona Imaizumi)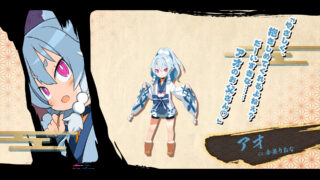 An emotionally unstable girl who claims to be Fuji's daughter.
Wey-yasu (voiced by Takuma Terashima)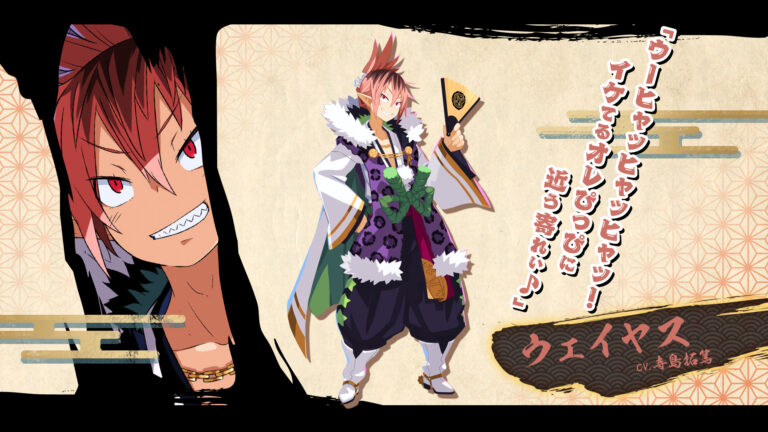 The corrupt incompetent Shogun.
Seefour (voiced by Rina Kitagawa)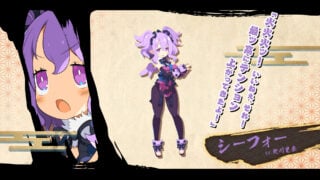 The thief of chivalry and explosive maniac.
Suisen (voiced by Maki Kawase)
A humanoid weapon that sees the future.
Higan Zesshousai (voiced by Yui Kondou)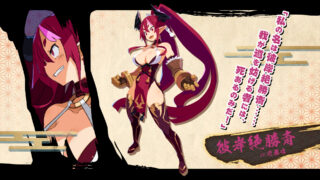 The strongest swordswoman, tired of swinging swords.
Music: キャラクター 魔界戦記ディスガイア7 日本一ソフトウェア